Sofía Pilato is in her third year of Nursing at CEU UCH. She spent a week volunteering at Zanzibar Hospital with the Neurosurgery, Education and Development Foundation (NED).
Tell us about your experience:
My experience as a volunteer in Zanzibar has probably been one of the most rewarding experiences for me, not only personally but in terms of my professional future too.
I have always felt the need to give to and help those who need it most, so through the Neurosurgery, Education and Development Foundation (NED) I have fulfilled that dream by living it with passion and dedication, and trying to collaborate in everything I could from my humble position.
"I HAVE ALWAYS FELT THE NEED TO GIVE TO AND HELP THOSE WHO NEED IT MOST".
It has been a pleasure to be able to assist in the operating theatre together with doctors and nurses, learning from them as the great professionals they are.
This foundation in particular interests me because its objective is not only to create a hospital which organises regular missions, but also to train health personnel there to make them self-sufficient and able to offer quality care to their population. They focus mainly on the development and promotion of neurosciences and neurosurgery in the most disadvantaged countries. But they also work in other specialties such as orthopaedic medicine, gynaecology and intensive care.
The week I was at the Mnazi Mmoja NED Surgical Institute was intense and full of emotions, and every day that passed I learned from the professionals, the people there, the patients themselves and the diseases they had… Additionally, with the few resources that they have – they do not always have the necessary materials or medication – you learn to look for alternatives and "use your imagination" to provide the necessary care.
"AFTER THIS EXPERIENCE I TRULY VALUE THE FACILITIES AND RESOURCES THAT WE HAVE IN SPAIN".
As a student of nursing the truth is that I learned more than I helped; I followed the instructions of the nurses on the mission. I worked mainly in the operating theatre as a circulating nurse and I even got to operate. I also helped to anaesthetise patients, and with organisational tasks… but learning and meeting great people has been the most important thing.
I HAVE THE SATISFACTION OF HAVING DONE MY BIT FOR SUCH A NECESSARY PROJECT
After this enriching experience, I take the satisfaction of having done my bit for this project which is so necessary for these people who need our most unconditional support.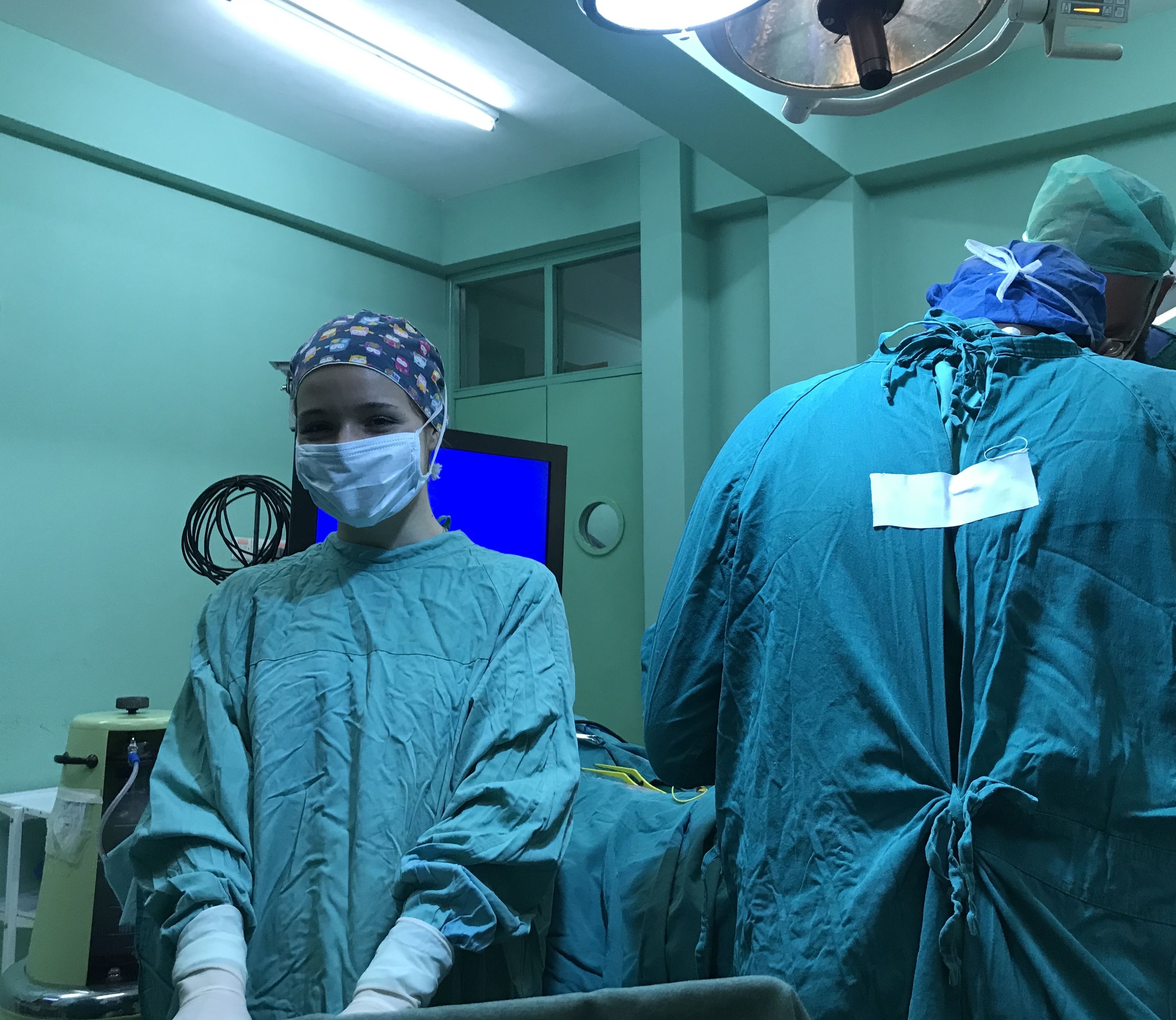 I wish this country and these children, who deserve the best, a better future, I will undoubtedly always be willing to collaborate with NED on their missions or any work that comes my way. I recommend it to everyone because it is the act that helps us grow the most and gives us more satisfaction.
Thank you Sofía for sharing your experience!